Yinepu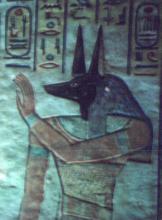 Other Names:
Anubis, Anpu
(Anpu; G/R Anubis) "The Royal Child" A Name of predynastic origins, depicted either as a full jackal or as a jackal-headed man, Yinepu originally, as Khenty-amenti or "Foremost of Westerners," was both embalmer and caretaker of the deceased, and the guardian of tomb and necropolis.
Over time Wesir's popularity would absorb much of Yinepu's nature, causing Him to be written into the myths as Wesir's son by Nebt-het (alternately Set's son or Aset's son) and relegating Him to the role merely of embalmer and overseer of the funerary processes. Masks of Yinepu were routinely worn by the Sem-priest officiating at the funeral and the 70-day mummification process; images of Yinepu wrapping bandages, pouring oils or embracing the coffin are generally not actually images of the Netjer Himself, but of His servants doing His work.
In later times Yinepu would be syncretised with Greek Hermes and seen as a "psychopompos"or messenger/guide of the deceased soul; in Kemetic iconography, Yinepu can be seen leading the deceased person into the Hall of Double Truth, where He then weighs the deceased's heart against the feather of Ma'at.